Do you want to promote your brand, build customer loyalty, unite your staff?
Or maybe you want to organise a get-together with friends or a family reunion?
If so, think
Soufflenheim Golf Club
In the heart of Alsace, just 30 minutes to the north of Strasbourg and Baden-Baden, Soufflenheim Golf Club can host your event in an outstanding setting.
"Le Panorama" restaurant
A wedding, an anniversary party, a class reunion, a christening,
or a gathering with friends,
In a magnificent space overlooking the beautiful natural surroundings, take advantage of:
• A dining room seating up to 100 guests
• A bar with seating for about 40 people
• A terrace with a view over the golf courses
• An outdoor cocktail area at garden level for large receptions, for up to 250 guests
Example of a menu (for a group of our 25 to 40 people in the restaurant)*:
Aperitif:
a champagne cocktail (Soupe Champenoise) – 6 appetisers per person
Meal:
Starter: Périgord salad (salad greens, duck, foie gras, potato, beans, tomatoes…)
Main dish: Roast Veal, Gratin Dauphinois, Chanterelle mushroom sauce
Dessert: Vacherin ice cream cake
Drinks: Red wine: Vacqueyras – White Bordeaux – still and sparkling water – One espresso per person
Price €59 per head**
*Menu adjustable according to your needs and wishes
** price includes: aperitif, meal, beverages as described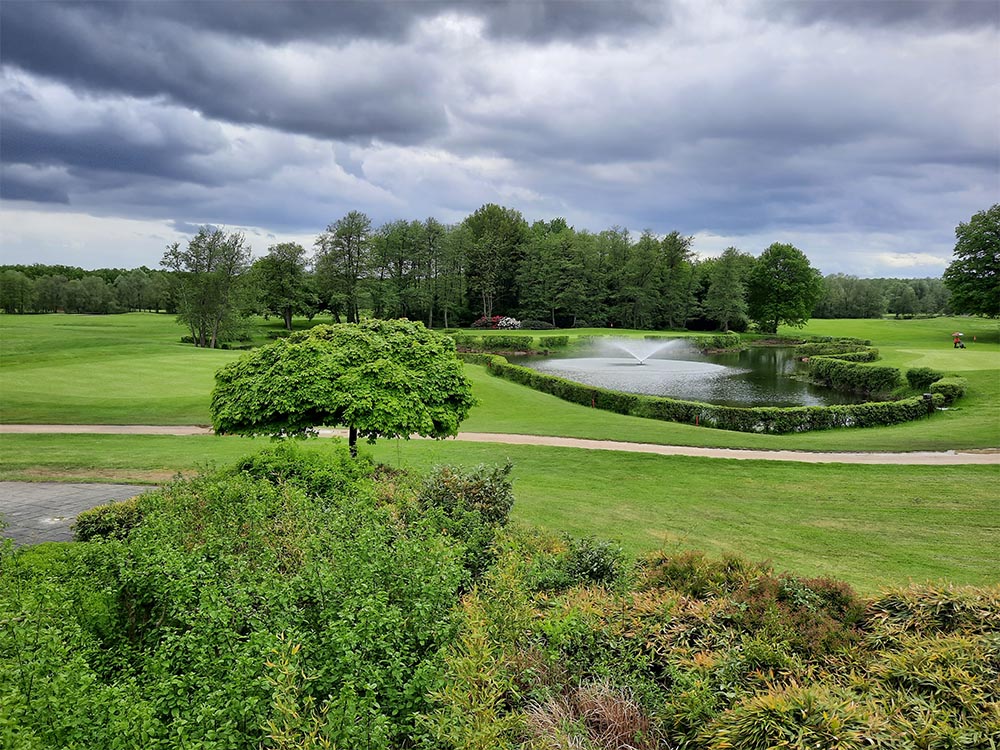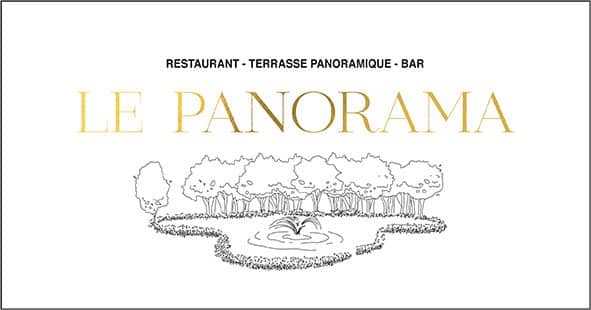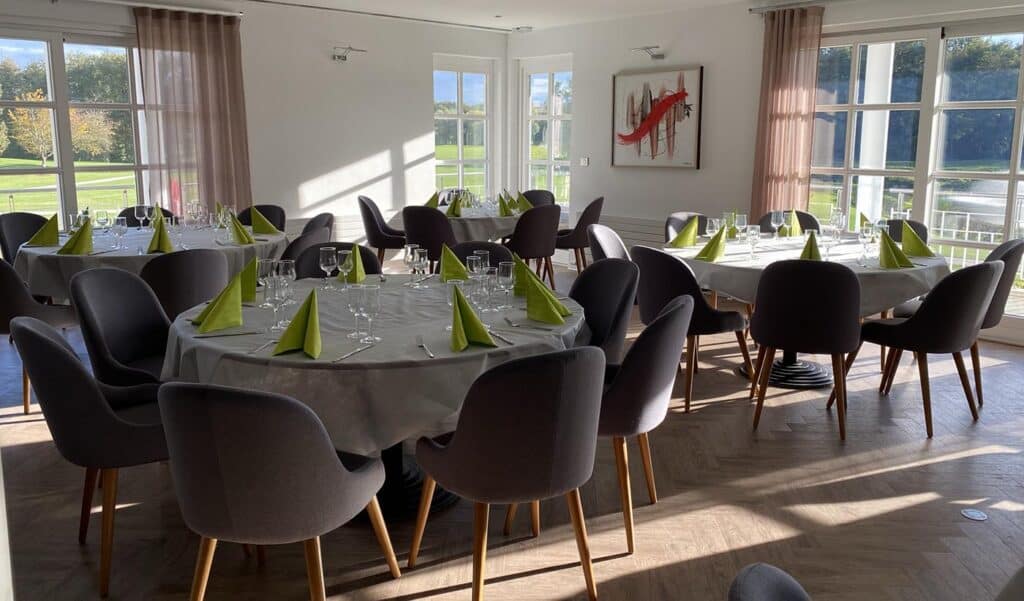 If you are organising seminar, training session or a team building day
We can offer meeting room with a capacity of up to 30 people
(equipment: paperboard and pens, video projector, sound system, microphones, amplifier)
Example of a typical day*:
Participants arrive at 8.30 am
Welcome (coffee & croissant)
Lunch: starter – main dish – dessert (excluding beverages)
Afternoon break (water, orange juice, biscuits)
2-hour introductory golf session in groups in the afternoon – €65 per head per day**
Day ends at 6.30 pm
*Menu adjustable according to your needs and wishes
** price includes: welcome coffee & croissant, lunch (starter-main dish-dessert), afternoon break, golf session, seminar room and equipment hire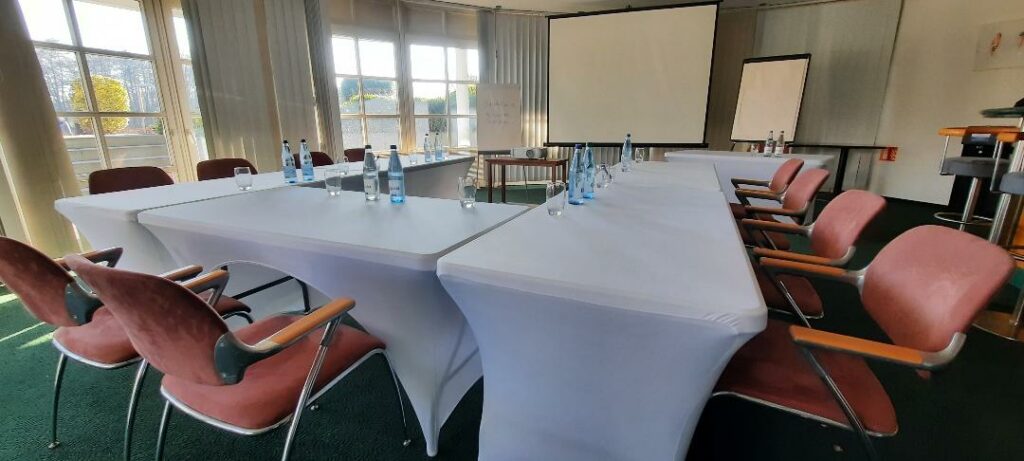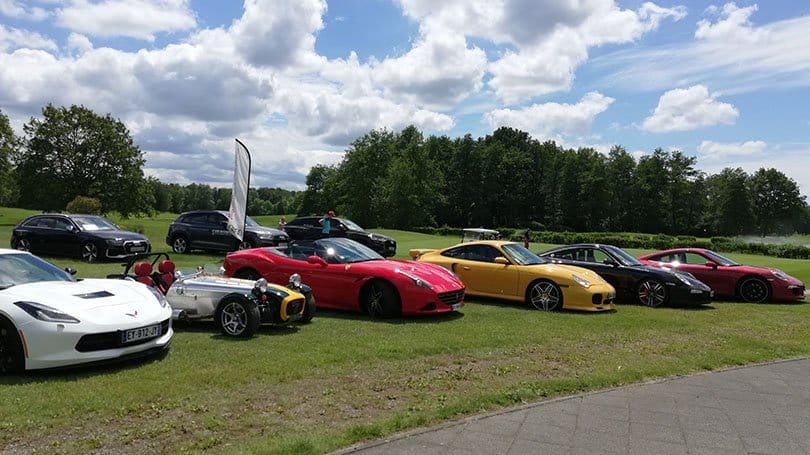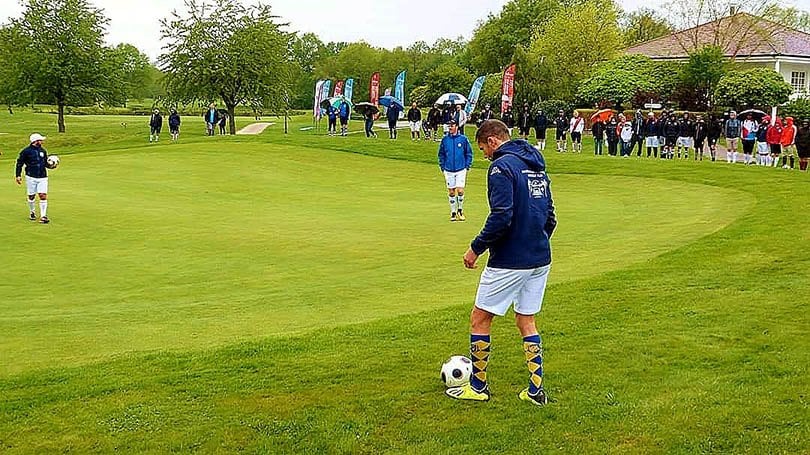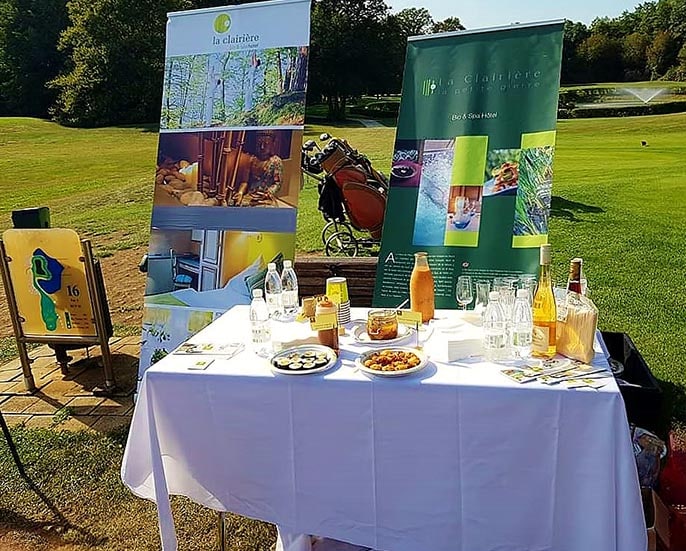 Are you looking to present your company in a different light, do something original, surprise your partners? We propose:
*Menu adjustable according to your needs and wishes
**price includes: welcome coffee & croissant, green fee, organisation of the competition, mid-point snack, cocktails at the prize-giving and dinner (excluding beverages)