Is in Alsace, right in the heart of Europe, just 30 minutes from Strasbourg and close to Baden-Baden that you will find Soufflenheim Baden-Baden International Golf course, a golfing destination deserving of every superlative, a 120-hectare masterpiece designed by Golf Pro Bernhard Langer.
Enjoy the silence away from the bustle of everyday life in this delightful setting surrounded by forest, where 18 greens and 14 lakes blend harmoniously into grasslands that breathe calm and serenity.
The sensitivity deployed by Bernard Langer in integrating the course in this magnificent landscape has paid off, with a course that immediately inspires an immense feeling of relaxation.
The diversity and sheer beauty of the landscape and the experience of being surrounded by nothing but nature has become Soufflenheim's brand image. Whether you are an ambitious competitive player or a youngster starting out in the game, you are sure to fall under Soufflenheim's spell.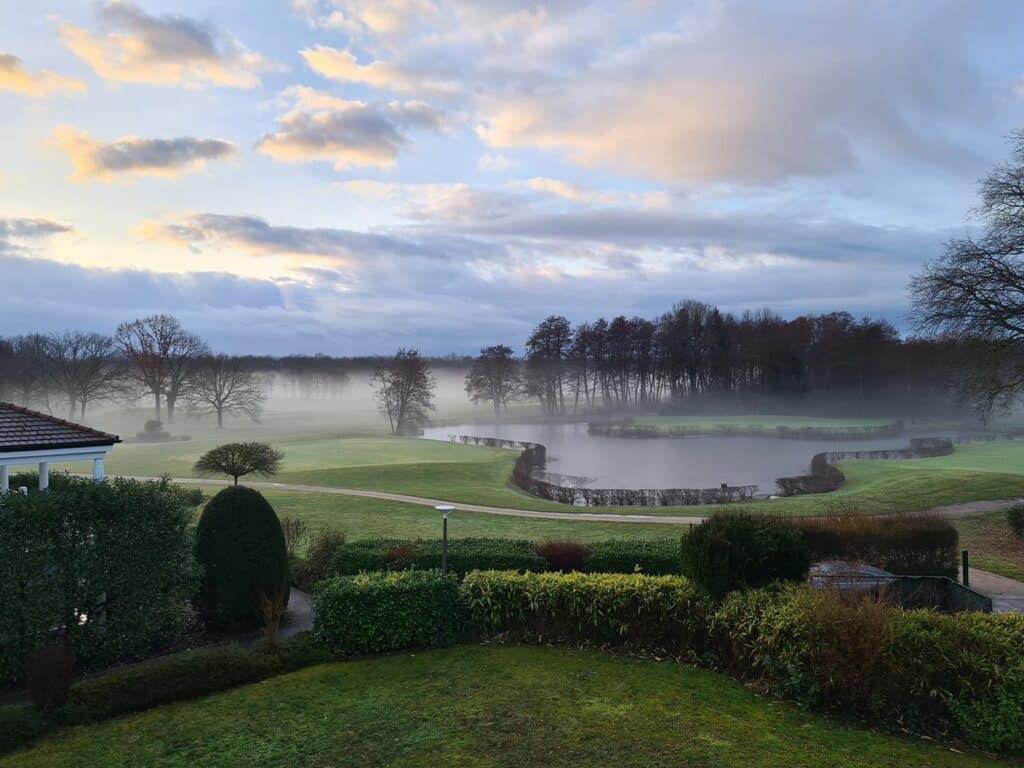 18-hole championship course, unique in France
The 18-hole championship course is the jewel on our crown, with its 18 greens, 14 natural water hazards and numerous bunkers. This splendid course nestles in amongst the lush Rhineland grasslands surrounded by woods that protect it from the noise and bustle of the outside world. Every hole is unique. A good golf course implies more than just length and technical difficulty – it must also be pleasing to players by the variety of its landscapes, the beauty of its trees, its layout and well-kept fairways and greens.
All of these criteria are met at Soufflenheim golf course. Whether you are a member, a seasoned golfer or an occasional visitor come and enjoy a round on this beautiful course.
The 18-hole course is open to anyone with an index of 40. Don't hesitate to sign up for one of our many tournaments, to come play in match play, with friends or just to keep fit.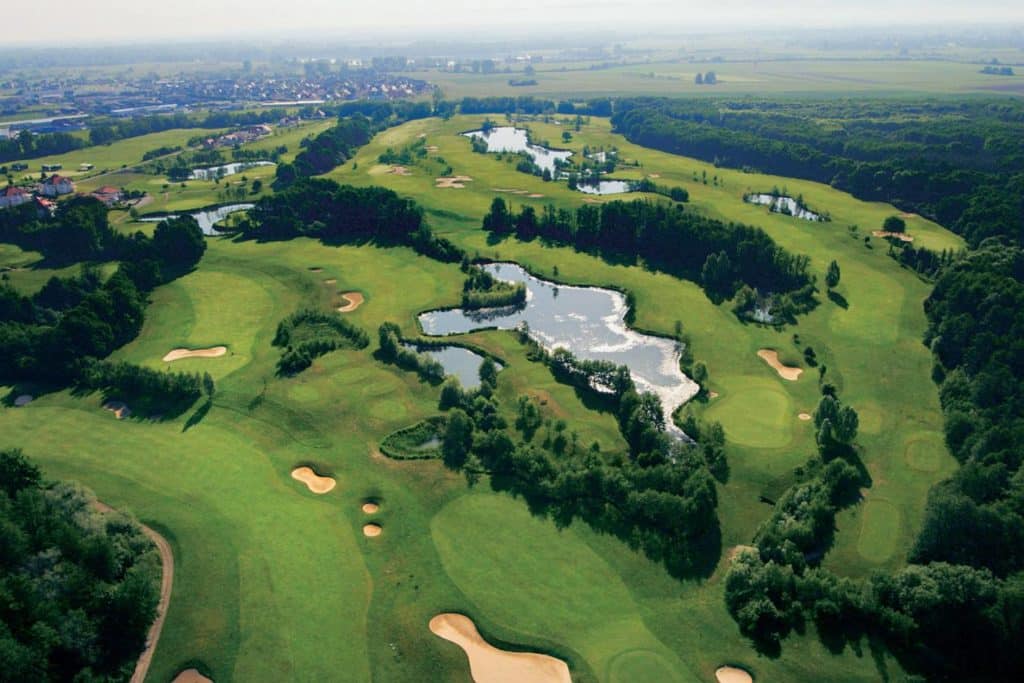 9-hole course ideal for improving your handicap (index), suitable for beginners and junior players
Our 9-hole course (accessible to anyone with have the "Golf Course Mature") is naturally less demanding, but no less exhilarating and pleasant to play on. It is the ideal place to prepare the challenge of our main course. It is also an excellent course for beginners to perfect their handicap. One of the best features of our 9-hole course is hole no. 7, a fine par-5.
Sign up for our beginners' tournaments (which usually take place on Saturday afternoons) and improve your handicap (index).
Training area, 6-hole course and Driving range,
At Soufflenheim Golf Club, you will also find a 6-hole pitch and putt course, just what you need to prepare for "Carte Verte" (Golf Course Mature), and to practise your short game and approach and precision shots. Our driving range is very spacious and can be used from both sides. It is equipped with covered tee boxes. Together these facilities form a complete training area, where golfers of all levels can practise.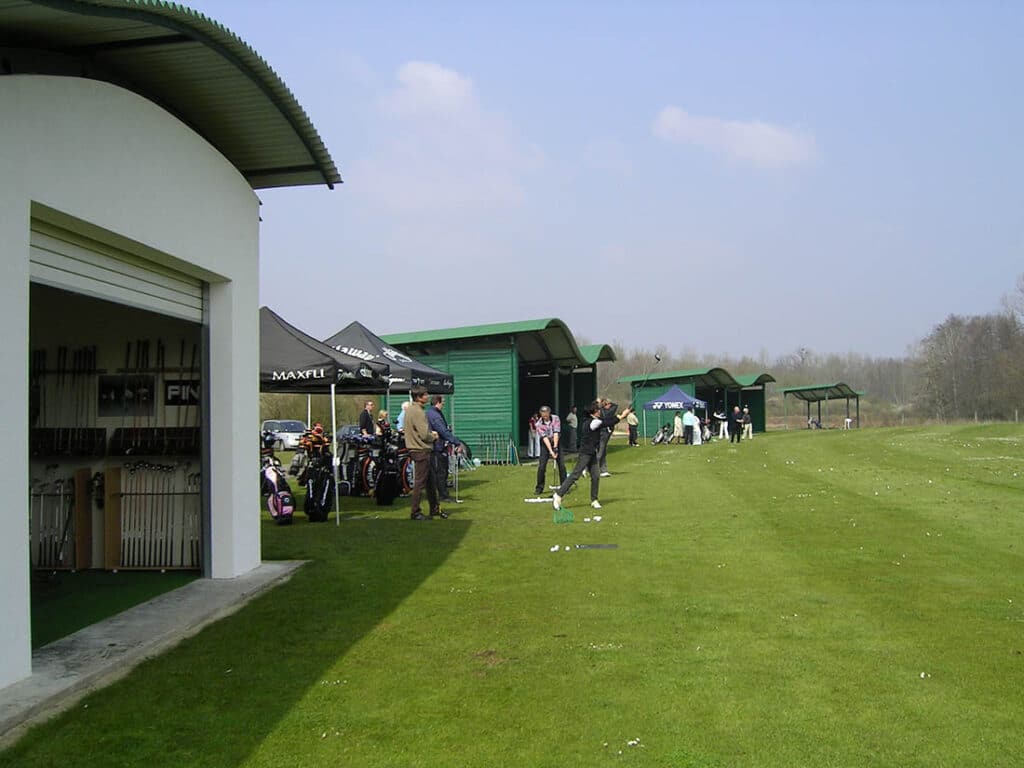 Take advantage of a concept that allows you to progress in stages to develop that perfect swing. In a word, we can offer ideal practice facilities and qualified pro instructors, who are members of the PGA and speak several languages: Geoff PERKINS, Olivier SABOURIN and Jean-Yves MIGEOT. They practise an approach specific to our Golf Academy, consisting of filming you practising on the driving range from different angles using 4K cameras and then measuring and analysing your swing. Teaching can also take place out on the course itself, weather permitting, or using our large-screen simulation system with our brand-new TOP TRACER© system. Come and try this new technology, you're sure to be won over!
Since 2018 our 9-hole course has also been approved to host training sessions and Footgolf competitions.
Before or after your round of golf, why not drop in to the Proshop, conveniently situated next to the Club reception desk, where you can find that item of equipment that you're lacking, a souvenir with our logo on it or a gifts for family and friends.
You can also enjoy a meal in our restaurant, "Le Panorama", and admire the view over the golf course from the main dining room or the sunny terrace.
Soufflenheim Golf Club offers "sporting", "dynamic" and "convivial" sections, a good Golf academy, and a sports association made up of the Club's active members whose role is to work on new projects, forge new ties and organise friendly events for the members. New members always welcome.
Our entire team strives every day to make our Soufflenheim golf course even more attractive for you.